Spring Surprise! Name Grants Announced by Michele Strange, Chair
With the virus shutdown we are unfortunately missing our monthly meetings, state convention and our wonderful scholarship awards presentation. Despite this, the Name Grants Committee, composed of Jan Eriksen, Carol Robertson and me, continued our work by email, receiving several nominations from members. and we decided to go ahead and honor two members again this year.
In the past we have made this announcement at our April meeting and it is a surprise to everyone, including the honorees. We decided this year we would make the surprise announcement in this issue of The Current.

Ann Brice is a fairly new member of our branch, but within a short time she became involved in our organization. Her interest in public policy led her to accept the position as Public Policy Chair. In this area she has been very diligent in keeping up with national and state issues, culling information from AAUW National to write her interesting column in The Current. She is also a member of the Scholarship Committee, lending her expertise in higher education to deliberations in selecting scholarship winners.
But Ann's willingness to step forward this year to run for a couple of our vacant positions on the board was amazing. When the Nominating Committee met with her, she offered her services for either branch President or VP-Finance. A deal was worked out that she would run for president. In addition, she is willing to continue as Public Policy Chair as well! We are confident that her organization skills will see her through, despite her teaching load at Western and family responsibilities.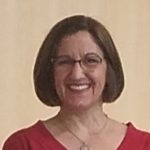 Kristen Foehner has been in our branch a little longer and was new to the area when she joined. She soon became more involved and served as co-chair of Programs for two years. She then tackled a more challenging position when she agreed to run for VP-Finance five years ago. Kristen then accepted a second
term. Some responsibilities of this job include handling two bank accounts, presenting an annual financial report and proposed budget to the board, and managing dues for new and renewing members. Kristen did an admirable job handling the many details of this position while managing to continue her education, working and helping raise a teenage daughter. Her dedication to this important work of our branch earns her this award.
A donation will be sent to AAUW National in their names and certificates will be presented to them at a later date.
Congratulations and thank you, Ann and Kristen, for all you do!