What are Study Groups?
Study groups provide an opportunity for members to grow intellectually
and creatively, broaden their involvement in topics of interest, become agents
for intelligent community action and meet people who share similar interests.
Please note that anyone is always welcome to attend any of these groups –
no strings attached! Drop in, and bring a friend, to experience fellowship
and the pleasures of lifelong learning.
AAUW In Action (AIA) …
Meetings vary each month.
Please check the "Monthly Meetings" tab or see below for current information.
Next meeting: April will be email meetings due to…well, you know.
AAUW in Action is a study group that serves as a springboard for community service activities for our branch that promote AAUW's mission.
Contact Erica at moogs56@hotmail.com
The International Women's Day: The celebration was wonderful. Please Special Events Page for a complete recap. The Free the Girls bra collection netted 50 bras! Thank you all.
Equal Pay Day tabling at UWL: We won't be able to host the annual Equal Pay Day tabling at UWL so we're looking at other ways to bring awareness to this.
Pearl St. Display: Here's a picture of the terrific window display at Pearl St Books. Thanks to Lois Gilbert, Carol Robertson and Karen Lange for their creative work!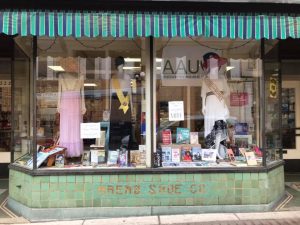 LaX Tribune daily Women's history blurbs:
Hopefully, you've been reading and liking the Women's History month daily postings on the branch Facebook and Instagram accounts. Thanks to Sydney, our social Media intern, for keeping those up-to-date!
PDF file:  WHM2020TRIBUNE
Link: https://lacrossetribune.com/news/local/women-s-history-month-profiles-celebrating-the-th-anniversary-of/collection_87a33841-1035-53f4-8982-422d757ea9a2.html#2
You can also find them on our branch Facebook and Instagram accounts, thanks to Sydney, our Social Media Intern.
Collecting for New Horizon: You've been so generous in the past; there is always a great need for the items though. You can also drop off items at the New Horizon Office: 1233 Main Street in La Crosse. For other items New Horizons needs, go to :https://www.facebook.com/265742920170460/ posts/2720403104704417/?d=n
Bronze Ceiling Project: Carly Buchholz, a sophomore in one of Dr. Mahruq Kahn's Women's Studies classes, contacted our branch about helping with a project. We offered several suggestions and Carly chose to work on the Bronze Ceiling Project. Across the country there is a growing movement to recognize noteworthy women and their historical contributions through public monuments. Unfortunately, less than 7% of the 5,193 monuments in the United States presently recognize women. In NYC's Central Park a new monument to Elizabeth Cady Stanton and Susan B. Anthony will be unveiled in August 2020. Lexington, KY has unveiled a sculpture representing 5 suffragists that will be placed downtown next year. Carly has written a paper about the project, put up a display at the Main Public Library in La Crosse and started a petition for La Crosse to put a similar statue in a public park. Please check out her display, up through January 2020, and sign the petition. Her goal is to reach 1000 signatures! https://www.thepetitionsite.com/320/777/023/ aauw-bronze-ceiling-project/
We think Carly's done a great job of helping to raise awareness of the lack of women represented in public art and we hope to start a community dialogue about remedying that situation in La Crosse.
Contemporary Authors…
Usually meets the 3rd Tuesday of month at 2:00pm. For meeting places and any further information, contact either Alice at 608-788-4206 or Mary at 608-783-3483.
Hearth & Home…
Date: Usually meets on a Wednesday.
Program: 
Time/Location:
Scholarship Bridge…

.
Meeting times vary. Contact Sharon at 788-5356 for more information.