Our meetings are the second Saturday of each month from 10:00am- 11:30am.
Please see the "Programs" section of our website for information about topics and locations of the meetings.  
Scholarship applications for 2020 are now available!
Click on the "Scholarship Applications" tab above.
Sign the Online Petition!
AAUW La Crosse has been working with UWL student Carly Buchholz to bring awareness of the Bronze Ceiling to La Crosse.
Across the country there is a growing movement to recognize noteworthy women and their historical contributions through public monuments. Unfortunately, less than 7% of the 5,193 monuments in the United States presently recognize women. In NYC's Central Park a new monument to Elizabeth Cady Stanton and Susan B. Anthony will be unveiled in August 2020. Lexington, KY has unveiled a sculpture representing 5 suffragists that will be placed downtown next year. Carly has written a paper about the project, put up a display at the Main Public Library in La Crosse and started an online petition for La Crosse to put a similar statue in a public park.  Please check out her display, up through January 2020, and sign the online petition.  Her goal is to reach 1000 signatures! Here's the link to the online petition
https://www.thepetitionsite.com/320/777/023/ aauw-bronze-ceiling-project/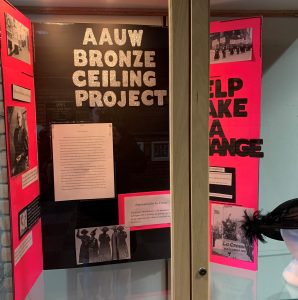 2020 AAUW-WI State Convention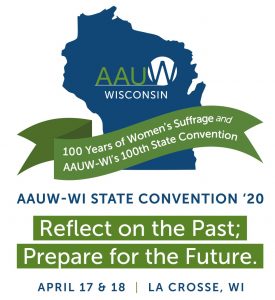 Mark your calendars for the exciting celebration of 100 years of Women's Suffrage and
AAUW-WI's 100th State Convention!
April 17-18, 2020
Radisson Hotel La Crosse (website)
200 Second Street S., 200 Harborview Plaza, La Crosse,WI, 54601 
(608) 784-6680
2020 State Convention Fact Sheet
Please note: the date for the 2020 AAUW-Wisconsin State Convention has changed from the date initially announced at the 2019 convention. This year's convention is being planned by DISTRICT 4: Eau Claire, La Crosse, River Falls, Chippewa Falls, and Tomah branches
**Registration information coming soon!**
AAUW Mission Statement


AAUW advances equity for women and girls through advocacy, education, philanthropy, and research.
AAUW Vision
AAUW empowers all women and girls to reach their highest potential.
AAUW Value Promise
By joining AAUW, you belong to a community that breaks through educational and economic barriers so that all women and girls have a fair chance.
Why Care About AAUW?
AAUW (formerly known as the American Association of University Women) is a nationwide network of more than 170,000 members and supporters, 1,000 AAUW branches across the continental United States, Alaska, Hawaii, Guam, and Puerto Rico, and 800 college/university institution partners.
For 130 years, AAUW members have examined and taken positions on the fundamental issues of the day — educational, social, economic, and political. Our commitment to our mission is reflected in all aspects of our work.
AAUW members enjoy opportunities to network at the local, state and national levels, sponsor community action projects to promote equity, serve in leadership positions, and lobby local and state legislators on AAUW priority issues.
Membership Benefits Also Include:
Stimulating Programs, Projects and Study Groups
Shared Values and Interests
Informative Local, State, and National Publications
Expertise and Representation on Education and Equity Issues
Financial Resources for Education
Networking
Leadership Training Opportunities
Monthly Branch Newsletter
Who can be a member?   AAUW, founded in 1881, is open to all graduates who hold an associate's or equivalent or higher degree from an accredited college or university. Undergraduates may become Student Affiliates.