ENTRIES FOR THEME OF: Valiant Women Of The Vote: Refusing To Be Silenced
The theme for 2021 National Women's History Month captures the spirit of these challenging times.  Since most 2020 women's suffrage centennial celebrations were curtailed, the National Women's History Alliance (www.nwhp.org) is extending the annual theme for 2021 to "Valiant Women of the Vote: Refusing to Be Silenced."  This theme continues to observe the 100th anniversary of women's right to vote. This year we also recognize several men who not only provided support for women's suffrage but often impacted directly on the passage of the 19th Amendment.
     As we celebrate the fact that Congress passed the 19th Amendment in 1919, and 36 states ratified it by August of 1920, it is important to realize that the 19th Amendment did not guarantee ALL women in the United States the right to vote. In 1924 the Indian Citizenship Act deemed Native Americans U.S. citizens, but it still was up to states to decide if indigenous people could vote.  In 1934 the Magnuson Act granted Chinese in America the right to become citizens and therefore to vote.  And in 1962 New Mexico became the last state to enfranchise Native Americans. In 1965 the Voting Rights Act eliminated many of the restrictions that had excluded African Americans and Native Americans from voting, such as poll taxes, literacy tests, and intimidation.  However, the struggle for voting rights continues.
     The daily stories you'll see throughout March were written by AAUW La Crosse members Jan Eriksen, Erica Koonmen, Betty Kruck and Pam Thiel, unless otherwise credited.
Monday, March 1
Laura Cornelius Kellogg (1880-1947)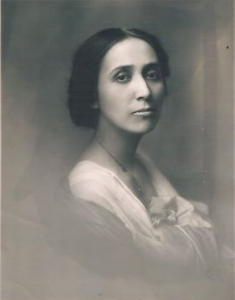 Laura Cornelius was born on the Oneida Indian Reservation at Green Bay. Instead of being sent off to a Bureau of Indian Affairs boarding school in the East, as were most of her peers, she was educated at Grafton Hall, sponsored by the Episcopal Diocese of Fond du Lac. She then taught briefly at the Oneida Indian Boarding School in Oneida, Wisconsin and at the Sherman Institute in Riverside, California. From 1898 through 1910 Laura Cornelius traveled for two years in Europe and took classes at Stanford University, Barnard College, the New York School of Philanthropy, Cornell University, and the University of Wisconsin. While in Europe she admired the Garden city movement of urban planning in England, Germany, and France: it planted the seed of her Lolomi Plan of Native American living, cooperation, division of labor, and self-governance. In 1912 Laura Cornelius married Orrin Kellogg, an attorney of Seneca ancestry. Laura Cornelius Kellogg wrote Our Democracy and the American Indian: A Presentation of the Indian Situation as It Is Today and was a founding member of the Society of American Indians. She and her husband fought for Native American land claims.
SPONSORED BY AAUW LA CROSSE
Tuesday, March 2
Zona Gale 1874–1938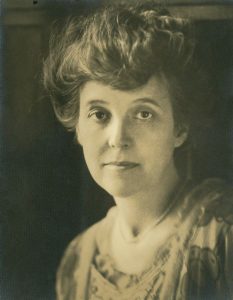 Pulitzer Prize-winning author, regional writer, and political activist, Gale was born on August 26, 1874 in Portage, Wisconsin to Charles Franklin and Eliza Beers Gale. She graduated from the University of Wisconsin in 1895 and became one of the first female newspaper reporters in Milwaukee, working for the Evening Wisconsin and then the Milwaukee Journal. She received her master's degree  "https://www.britannica.com/topic/master-degree" in literature from UW in 1899.   Gale became the first woman to win the Pulitzer Prize for drama in 1921. She was a suffragist and an activist.  She supported animal rights, a vegetarian diet, and prohibition of alcohol and tobacco. Of all her interests in reform, Zona Gale devoted her greatest efforts to promoting pacifism and women's rights. She was an active member of the  "https://en.wikipedia.org/wiki/National_Woman's_Party" National Woman's Party, and she lobbied extensively for the 1921 "https://en.wikipedia.org/w/index.php?title=Wisconsin_Equal_Rights_Law&action=edit&redlink=1 "Wisconsin Equal Rights Law. In 1921, she attended the founding meeting (in New York) of the Lucy Stone League and became a member of its executive committee. Gale's feminism was manifested in her fiction, which featured female characters attempting to escape from the narrow conventional definitions of womanhood in A Daughter of the Morning (1917), Birth(1918), Miss Lulu Bett (1920), and Faint Perfume (1923).  Gale's activism on behalf of women was her way to solve politically a problem she returned to repeatedly in her novels: women's frustration at their lack of opportunities.  After the vote was won in 1920, she helped draft the Wisconsin Equal Rights Law in 1923. She sat on the board of regents of the University of Wisconsin in 1923–29. She died on December 27.
SPONSORED BY AAUW LA CROSSE
Wednesday, March 3
Septima Poinsette Clark (1898-1987)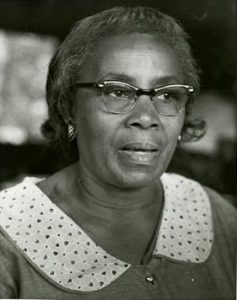 Septima Poinsette Clark was born in Charleston, South Carolina in 1898. Her father was a former slave and her mother was a laundress. Since Charleston had no high schools for Blacks, she earned money to attend Avery Institute, a private school for African Americans. Upon graduation in 1916, Poinsette became an instructor in rural South Carolina because Charleston did not hire African Americans. Poinsette made a career of teaching, including 18-years in Columbia and 9 in Charleston, and became a civil rights activist that started in 1919 when she joined the National Association for the Advancement of Colored People (NAACP). Her first political victory was to get signatures to change Charleston's policy of not hiring Black teachers. In 1945, she helped the NAACP win a case on equal pay for white and Black teachers. South Carolina made it illegal for public employees to belong to civil rights groups in 1956. Clark refused to renounce NAACP and lost her teaching job. After her firing, Clark took a position in Tennessee at the interracial Highlander Folk School, a grassroots education center dedicated to social justice. Clark taught adults basic literacy skills and citizenship rights. After Highlander closed in 1961, the Southern Christian Leadership Conference (SCLC) established the Citizen Education Program based on Clark's model. Grassroots citizenship education became the cornerstone of the Civil Rights Movement, and Clark was called its "Mother" by Martin Luther King. She was instrumental in founding nearly 900 citizenship schools to teach African Americans literacy, which ultimately helped them vote.
SPONSORED BY AAUW LA CROSSE
Thursday, March 4
Jovita Idar (1885-1946)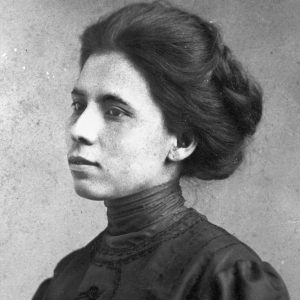 Jovita Idar was a strong and influential advocate for Mexican-Americans and Mexican Immigrants civil rights and social justice. She grew up in Laredo, Texas where she earned a teaching certificate. Frustrated by the inadequately equipped and poor conditions of the segregated schools, she left teaching to focus on journalism as a way to expose the injustices and inequalities of Mexican-Americans in Texas and the U.S. She worked first at her father's newspaper, and then at other newspapers as a journalist and then as an editor. She formed her own weekly newspaper in 1916. She denounced the dismal social, educational, and economic conditions of Mexican-American workers. She wrote positive articles in a number of Spanish-language newspapers about women's suffrage activities, and encouraged women to reject a degraded status. When an editorial angered the military and the Texas Rangers, she famously stood at the door of the newspaper office and denied the Texas Rangers entrance. However, the Rangers returned when she was not there and ransacked the office, destroying the printing press. Jovita continued to write and promote educational, civil and voting rights.
SPONSORED BY AAUW LA CROSSE
Friday, March 5
James Densmore (1820-1889)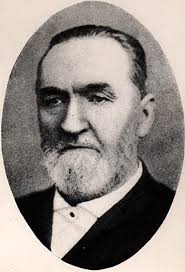 James Densmore was one of the limited number of men who openly championed the cause of women's suffrage. He managed the Oshkosh True Democrat, a newspaper whose policy was to support women's right to vote. In 1849 Densmore challenged the editor of the Milwaukee Sentinel to indicate why women should not have a voice in making laws. Densmore said he expected to be called a "visionary fanatic" for taking such as stand. The Sentinel replied May 31 in a tongue-in-cheek manner, "Women are confessedly angels, and angels do not vote." Densmore is probably best well-known, however, as an inventor who helped contribute to improving the typewriter at a machine shop in Milwaukee. He suggested alleviating the jamming problem by splitting up the order of commonly used letters on the keyboard. This concept was later refined by one of his business partners, Christopher Sholes, and became the QWERTY key layout that we use today.
SPONSORED BY AAUW LA CROSSE
Saturday, March 6
Virginia Louisa Minor (1824-1894)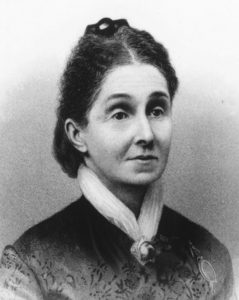 Virginia Minor was born in Virginia where she was home schooled and attended an academy for young ladies. In 1843, she married Francis Minor, a lawyer. They briefly lived in Mississippi and prior to the Civil War settled on a farm in St. Louis. Virginia took an active role in founding the Woman's Suffrage Association of Missouri in 1867 and became its first president. She later aligned herself with the National Women's Suffrage Association. At their convention in 1869, she stated that she had the right to vote based on the newly passed Fourteenth Amendment and the Association adopted her argument. Virginia tried to register to vote in 1872, but was denied because she was a woman. She and her husband then sued the registrar. The case made its way to the US Supreme Court where her husband argued the case. The Supreme Court unanimously held that the Constitution does not confer the right of suffrage upon anyone. This was a blow to the woman suffrage movement and they had to develop new strategies.
SPONSORED BY AAUW LA CROSSE
Sunday, March 7
Marie Louise Bottineau Baldwin (1863-1952)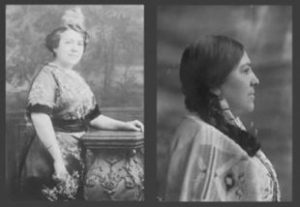 Born in 1863 in North Dakota, Marie Louise Bottineau grew up in a politically active Native American family.  She had a short-lived marriage to a white businessman named Fred Baldwin. In the early 1890's, as a clerk in her father's law office, she moved with him to Washington, D.C., to fight for treaty rights for their tribe, the Turtle Mountain Chippewa Nation.  In 1904, President Theodore Roosevelt appointed Marie as a clerk in the Office of Indian Affairs (OIA). She celebrated and promoted Native identity at a time when the government promoted assimilation, and wore traditional dress in her personnel photo taken in 1911.  In 1912, at the age of 49, she started night classes at Washington College of Law (Washington D.C.). She completed her law degree, in just two years, instead of the usual three.  In 1914, she was the school's first woman of color and Indigenous woman graduate.  At her graduation, a reporter asked if she was a suffragist, she laughing replied, "Did you ever know that the Indian women were among the first suffragists, and that they exercised the right of recall? The trouble in this Indian question is that it is not the Indian who needs to be educated so constantly up to the white man, but that the white man needs to be educated to the Indian" She helped found the Society of American Indians (SAI) but also continued to work at the OIA which caused conflicts and personal tensions. She became involved in the feminist movement and marched proudly with white female lawyers and college women in the 1913 suffrage parade in Washington D.C.  Changing politics and priorities within the OAI led to Marie disengaging from the group in 1919.  She retired from the Office of Indian Affairs in 1932, and died in 1952.
SPONSORED BY AAUW LA CROSSE
Monday, March 8
Rachel S. Jastrow (1865-1926)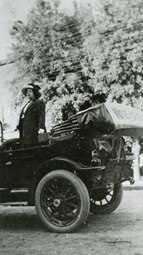 Rachel Szold Jastrow was one of the leaders of the women's suffrage movement in Madison, Wisconsin. Rachel moved to Madison from Baltimore in 1896. She enrolled in classes at UW-Madison and joined a number of organizations including the Madison German Society, Women's Club, and Civics Club. Rachel strongly supported women's suffrage, and would travel around giving speeches from an open vehicle emblazoned with a Votes for Women banner on the back. She served as liaison to the state legislature for the Wisconsin Women's Suffrage Association. In 1930 Rachel's name was one of fifteen included on a bronze plaque at the Washington offices of the League of Women Voters. The names on the plaque represented the most active in ratification of suffrage in Wisconsin. Rachel Jastrow is also recognized as founder of the Madison chapter of Hadassah and was instrumental in the establishment of one of Madison's first synagogues. She also organized a hospital association that eventually became the first hospital built in the city, Madison General hospital. Two books translated into English, one from French and one from German, are attributed to Rachel Jastrow.
SPONSORED BY AAUW LA CROSSE
Tuesday, March 9
Mary Ann Shadd Cary (1823 –1893)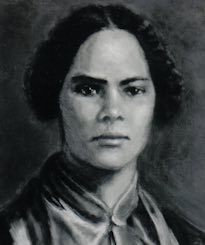 Mary Ann Shadd was born in Wilmington, Delaware, on October 9, 1823. Since Delaware prohibited Black education, the Shadds moved to Pennsylvania where Mary Ann attended a Quaker boarding school until 1839. Shadd's family was involved in the Underground Railroad. After the passage of the Fugitive Slave Act of 1850, her family moved to Canada.  In 1853, Shadd founded Canada's first-antislavery newspaper,   The Provincial Freeman, becoming the first Black woman in North America to edit and helm a newspaper.  In 1856, while living in Canada, she met and married Thomas F. Cary. They had two children. He died only a few years later.  Shadd Cary returned to the United States during the American Civil War and recruited soldiers for the Union.  She  taught in Washington D.C. public schools until, in 1869, she became the first Black woman to enroll in Howard University's law school. Shadd Cary was one of four women, the only Black woman in her class, who received a Bachelor of Law degree in June 1883.  She continued to lecture, focusing on women's rights and the women's suffrage movement.
Shadd Cary joined the National Woman Suffrage Association (NWSA), working alongside Susan B. Anthony and Elizabeth Cady Stanton, testifying before the Judiciary Committee of the House of Representatives and tried to register to vote alongside sixty-three other women, unsuccessfully. In 1878, Shadd Cary spoke at the NWSA convention, having petitioned to add the signatures of 94 Black women in to the NWSA's Declaration of the Rights of Women of the United States. Shadd Cary was one of the most outspoken and articulate female activists of her day, and promoted equality for all people. She died in 1893.
SPONSORED BY AAUW LA CROSSE
Wednesday, March 10
Clara Elizabeth Chan Lee (1886-1993)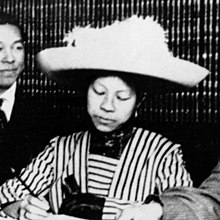 Clara Elizabeth Chan Lee became the first Chinese-American woman to register to vote in the United States. It was November 1911 in Alameda, California. The state had passed Proposition 4 (or Senate Constitutional Amendment Number 8) in October, granting California women the right to vote for the first time. Lee went on to found the Chinese Women's Jeleab (Self-Reliance) Association in 1913. The organization's primary purpose was education and independence for women. Lee joined the Chinese YWCA, established in 1916, as well as the Fidelis Coterie, a philanthropic Chinese women's club. She also became a member of the International Institute, which continues to help immigrants, refugees, and their families join and contribute to the community today. Clara Lee kept on with her volunteer work until her death at age 106, just 16 days short of her 107th birthday.
SPONSORED BY AAUW LA CROSSE
Thursday, March 11
Amelia Boynton Robinson (1911-2015)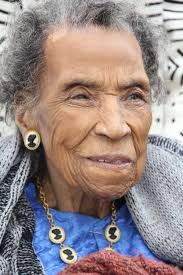 Amelia Boynton was a champion of voting and civil rights for African Americans. She began holding voter registration drives at a young age because of the few Blacks who were able to overcome the literacy and other restrictions for voting in Selma, Alabama. In 1964 she was the first African American woman to run for a seat in Congress from Alabama. She invited Dr. Martin Luther King to Selma to assist with voting and civil rights and together they planned the 1965 march from Selma to Montgomery. The march, later known as "Bloody Sunday" resulted in bloodshed on the Edmund Fitzgerald Bridge where marchers were beaten by state troopers and county police. Amelia Boynton was attacked and her bloodied unconscious body was photographed and shown around the world. Newspaper coverage prompted the signing of the Voters Rights Act of 1965. She was honored by Barack Obama at the State of Union address in 2015. At the age of 103, she held hands with Barack Obama as they moved across the Edmund Fitzgerald Bridge with Congressman John Lewis and others to commemorate the 50th anniversary of the "Bloody Sunday" march. She authored the book "Bridge Over Jordan".
SPONSORED BY AAUW LA CROSSE
Friday, March 12
The African American Literary and Debating Society in the La Crosse Area
African American women in La Crosse came together before the Civil War to create an organization that improved their community. In the late 1800's, they formed the African American Literary and Debating Society, one of over 400 such groups across the country. These organizations formed for self-growth and oratory. Likewise, white women nationally formed similar clubs. Literary and Debating Societies expanded their focus to take on civic issues such as suffrage. African American women were intersectional in their approach to suffrage. They also focused on anti-lynching, injustice, and educational opportunities. African American female reformers understood that in addition to their sex, their race significantly affected their rights and available opportunities. White suffrage organizations ignored these challenges that African American women faced. They chose not to integrate issues of race into their campaigns causing a schism between these two groups. The African American women suffragists wanted the vote for women and to ensure that African American men could also vote. African American men had won the right to vote in 1870, but had since been disfranchised. Black professional women and property owners in La Crosse founded the Literary and Debating Society–women like Penelope Birney, Mary and Lydia Moss, and Elizabeth Burt. The next generation of members included Emma Moss, Emma Smith, Ellen Shivers and Elizabeth Loving. Being a member of the club helped give African American women greater social standing in their community. As the African American population in La Crosse dwindled, the African American Literary and Debating Society became inactive.
— Research provided by Rebecca Mormann.  Photo of Penelope Birney, provided  Courtesy of the La Crosse Public Library Archives.
SPONSORED BY AAUW LA CROSSE;
Saturday, March 13
Susette La Flesche Tibbles (Bright Eyes) 1854-1903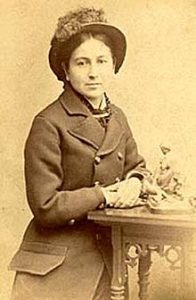 Susette La Flesche Tibbles worked tirelessly for Native American rights through her speaking, writing, interpreting and advocacy. She was the daughter of the last recognized chief of the Omaha tribe, born the year that the tribe moved from their hunting grounds to a reservation in northeastern Nebraska. She attended a mission boarding school on the reservation, and then a private school in New Jersey. She excelled at writing and returned to the reservation to teach. After viewing the horrible conditions of the Ponca tribe, she began writing and speaking about injustices experienced by Native Americans. She was interpreter for Standing Bear at the landmark 1879 trial which ruled that "An Indian is a person within the meaning of the law of the United States". She began serving as an expert witness and interpreter in court cases and traveled the country and abroad speaking of Native Americans' rights and injustices. She appeared in front of Congressional committees. When she died at age 49, she was eulogized in the U.S. Senate. She was inducted in the National Women's Hall of Fame in 1994.
SPONSORED BY AAUW LA CROSSE
Sunday, March 14
Harry T. Burn (1895-1977) and Febb Ensminger Burn (1873-1945)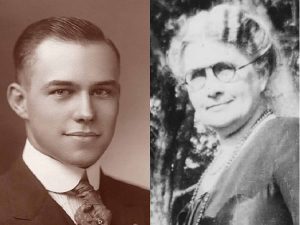 Harry Burn was born in Niota, Tennessee to Febb Burn, a college educated teacher, and James Burn, the local stationmaster.  In 1918, Burn became the youngest member of the Tennessee legislature at the age of 22.  The US Senate passed the 19th Amendment giving women the right to vote on June 4, 1919, but it could not become law without ratification by 36 states.  By August 1919, 35 states had ratified the new amendment.  On August 20, 1920, the Tennessee legislature held a special session to take up the issue.
Burn initially sided with the suffragists, but then was convinced to vote against them.  He was hoping that the issue would be tabled so he would not have to vote on suffrage until his second term.  There was a vote to table, but then a motion to consider the original vote on suffrage was considered.  The vote was deadlocked and it all came down to Republican representative Burn.  Unbeknownst to his colleagues, he had a letter in his breast pocket from his mother that admonished him to vote in favor of the amendment.   She wrote, "Now Harry, don't forget to be a good boy and help Mrs. Catt (a national suffragist) put the "rat" in ratification."  Burn faced a dilemma—to vote against the amendment and remain faithful to his "anti" constituents or remain faithful to the wishes of his mother.  Burn cast the tie-breaking "aye" vote and the 19th Amendment became the supreme law of the land.  We owe Mrs. Burn and her son a debt of gratitude!
SPONSORED BY AAUW LA CROSSE

Monday, March 15
Soledad Chávez de Chacón (1890-1936)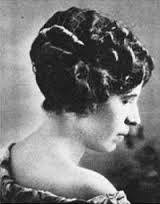 Soledad C. Chacón, nicknamed Lala, was the first woman Secretary of State in New Mexico (1923-1926) and the first Latina elected to statewide office in the United States. She also served as acting governor of New Mexico in June 1924 when Governor James F. Hinkle went to New York to attend the Democratic National Convention. The lieutenant governor had died in May, leaving Chacón as next in line for the highest position in the state. She continued her political career in 1934, when she was elected to the New Mexico House of Representatives. Chacón was only in her second year in office when she died at the young age of 45, of peritonitis, leaving a husband and two children. She was a 1908 graduate of Albuquerque High School and completed an accounting program at Albuquerque Business College.
SPONSORED BY AAUW LA CROSSE
Tuesday, March 16
Clara Bewick Colby  1846–1916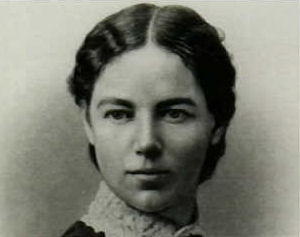 Clara Bewick was born in England, but grew up in Windsor, Wisconsin. One of six women in the UW-Madison's first co-educational class, she graduated as valedictorian in 1869.  The following year, she married Leonard Colby, a UW law graduate, and became known professionally as Clara Bewick Colby.  Clara used her college education and childhood farm experience to work for the rights of rural women. She lectured in favor of women's right to vote, working with suffragists Susan B. Anthony and Elizabeth Cady Stanton. In 1881 she became vice president of the Nebraska Woman Suffrage Association.
She founded The Women's Tribune, a monthly newspaper, in Beatrice, Neb., in 1883. She moved the paper, the leading women's suffrage publication in the nation, to Washington, D.C., in 1886.
The Colbys divorced in 1906. This strained Clara's finances and drew unwanted publicity to the suffrage movement. She became an example of the kind of woman that national leaders thought would be viewed unfavorably by the public:  if you gave women more rights, they would divorce their husbands and kick the men out. So despite all of her hard work, she was shut out of the U.S. suffrage movement. This is why she is not as well-known as other suffragists.  Sinking further into poverty, unable to get her husband to pay alimony, she closed The Women's Tribune in 1909. Eventually, Clara was forced to campaign and lecture to support herself, no matter what the weather and despite her declining health.  She died of pneumonia in 1916, four years before the passage of the 19th Amendment.
SPONSORED BY AAUW LA CROSSE
Wednesday, March 17
Maud Malone (1873-1951)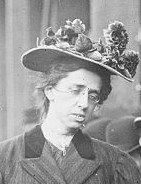 Maud Malone reinvigorated the suffrage movement with ideas some called militant. She is often labeled "Militant Suffragette" or "Militant Maud Malone" because some of her actions were similar to the more militant and sometimes violent British suffragettes. She worked in many organizations, but grew impatient with the lack of progress on women's suffrage which in 41 years had resulted in only 4 states adopting women's voting rights. The attendees at suffrage events were often those who already were in support, and she sought to challenge the thinking of all men and women. She introduced open outdoor meetings with question/answer periods, protests, and parades. She also would dare to shout out questions of "What about women's suffrage?" during political speeches. She was arrested after interrupting President Woodrow Wilson at a campaign event, and was jailed for 60 days. Although she endured being booed, yelled at, punched and pinched, she used a dash of joy, humor, sarcasm and smiles throughout her efforts. She was successful in gaining the support of men who joined in her parades and meetings. After New York won suffrage rights in 1917, her tactics were adopted throughout the nation leading up to the adoption of the 19th Amendment.
SPONSORED BY AAUW LA CROSSE
Thursday, March 18
Josephine St. Pierre Ruffin (1842-1924)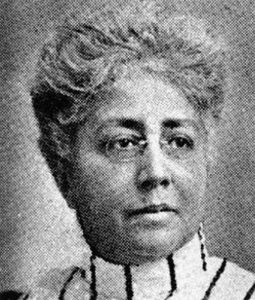 Josephine St. Pierre Ruffin was born into one of Boston's leading families in 1842. Her mother was an English-born white woman and her father was from Martinique. At 16, she married George Ruffin, the first African American graduate of Harvard Law School. Ruffin dedicated her life to bettering the lives of women, especially African American women, both locally and nationally, often skillfully maneuvering between Black and white communities. She worked zealously to address the double jeopardy of racism and sexism experienced by women of color. Ruffin supported women's suffrage and joined with Julia Ward Howe and Lucy Stone to form the American Women Suffrage Association in 1869 and saw suffrage as a step toward the equality of races. Ruffin was a charter member of the Massachusetts School Suffrage Association where she met Julia Ward Howe. She also worked on the suffrage movement with Susan B. Anthony and Elizabeth Cady Stanton. From 1890 to 1897, Ruffin edited Women's Era, the first newspaper published by and for African American women. In 1894, she founded the Women's Era Club, among the first African American Women's organizations. It provided both opportunities for self-improvement and a forum to discuss issues affecting their communities. In 1895, she convened a conference of other Black women's clubs that formed the National Federation of Afro-American Women. Through mergers it became the National Association of Colored Women in 1896, and Ruffin was elected first vice-president. Ruffin was also active in founding the Boston branch of the National Association for the Advancement of Colored People in 1910.
SPONSORED BY AAUW LA CROSSE
Friday, March 19
Stacey Abrams (1973-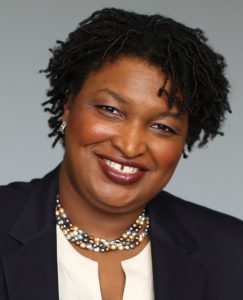 While most people think of voting right activists as people before the 1920 passing of the 19th amendment, even today we must remain vigilant against voter suppression. A current leader is Stacey Abrams, an American politician, lawyer, voting rights activist, and New York Times bestselling author who served in the Georgia House of Representatives from 2007 to 2017. Abrams was born in HYPERLINK "https://en.wikipedia.org/wiki/Madison,_Wisconsin"Madison, Wisconsin, and raised in Gulfport, Mississippi. In 1995, Abrams earned a BA  from HYPERLINK "https://en.wikipedia.org/wiki/Spelman_College"Spelman College, magna cum laude. She earned a Master's of Public Affairs degree from "https://en.wikipedia.org/wiki/University_of_Texas_at_Austin" University of Texas at Austin's  "https://en.wikipedia.org/wiki/LBJ_School_of_Public_Affairs" LBJ School of Public Affairs in 1998. In 1999, she received her Juris Doctor from Yale Law School. For the last decade, Abrams has focused on expanding voting access in Georgia and across the country. In 2014, one year after the US Supreme Court stripped back the protections in the 1965 Voting Rights Act, prohibiting racial discrimination at the ballot box, she co-founded the New Georgia Project, a group aimed at registering younger voters and people of color.  In 2018, Abrams became the Democratic nominee for Governor of Georgia, winning at the time more votes than any other Democrat in the state's history.  She lost to Republican Brian Kemp by 55,000 votes in the state's closest governor's race in more than half a century. The race was marred by accusations that Mr Kemp, who was at the time Georgia's secretary of state, had suppressed the votes of Black citizens by removing them from voter rolls. Over the course of her career, Abrams has founded multiple organizations devoted to voting rights, training and hiring young people of color, and tackling social issues at both the state and national levels. In 2018  Abrams launched Fair Fight, an initiative to fund and train voter protection teams in 20 states.
SPONSORED BY AAUW LA CROSSE
Saturday, March 20
Wendell Phillips (1811-1884)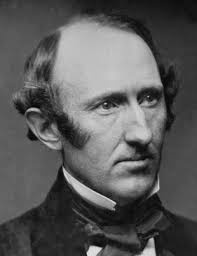 Wendell Phillips is known as one of the most brilliant orators of his time. He was called "the golden trumpet of abolition". His simple, direct, and eloquent speeches were focused on abolition, social and civil rights of all people. He abandoned his wealthy family connections and his law practice to focus his life on changing opinions on slavery and rights of laborers, women's suffrage, and rights of Native Americans. He was a major advocate of the 13th, 14th and 15th Amendment to the Constitution. After the 15th Amendment was passed, he devoted his efforts to the full civil and social rights of Blacks, women, laborers, and Native Americans. He was a member of the National Women's Rights Committee, and worked closely with women suffragists in drafting petitions, appeals and resolutions defining the movement's principles and goals. His address at the 1851 convention, "Freedom of Women", was used in literature into the 20th century. His death was announced in newspapers across the country and his funeral was a state occasion with thousands paying tribute. A statue of him stands at Boston Public Gardens.
SPONSORED BY AAUW LA CROSSE
Sunday, March 21
Wilhelmina Kekelaokalaninui Widemann Dowsett (1861-1929)


After the annexation of Hawaii to the United States, Dowsett became a prominent leader of women's suffrage. In 1912, at the request of the women of Honolulu, she organized the National Women's Equal Suffrage Association of Hawaii (WESAH), the first Hawaiian suffrage organization. Carrie Chapman Catt came from the mainland in 1918 to speak to the group. Hawaiian women became enfranchised along with their sisters on the continent when the 19th Amendment became part of the U.S. Constitution in August 1920. As residents of a U.S. territory, however, their elected representation was limited. It would take another 39 years for Hawaii to become the 50th state in the Union, and the residents of Hawaii, both male and female, to gain full U.S. voting rights. Dowsett did not live long enough to see that day; she died December 10, 1929.
SPONSORED BY AAUW LA CROSSE
Monday, March 22
Frances Barrier Williams (1855-1944)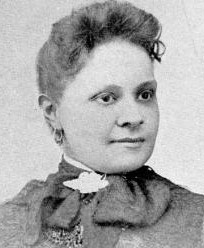 Frances Barrier Williams was born in Brockport, New York to a prominent Black family, one of only a few in Brockport. She did not experience much overt discrimination growing up. Barrier graduated as the first African American from Brockport State Normal School. Upon graduation, she moved to Hannibal, Missouri to teach Black students and experienced a level of discrimination that led her to become a reformer for the oppressed, especially women of color. Later, she gained a teaching position in Washington, D.C. and met her husband, a lawyer. They moved to Chicago where he had a successful law practice, and they joined the city's elite Black community and became activists. Williams joined the Illinois Women Alliance (IWA), an interracial labor and reform organization, becoming vice president in 1889. She represented the viewpoint of Black Americans in the IWA and lectured frequently on the need for all women, but especially Black women, to have the vote. In an 1893 speech, she argued that former female slaves were the equals of other women and urged white women to support suffrage for all. Williams' contribution to the suffrage movement was recognized in 1907 when she was the only African American selected to eulogize Susan B. Anthony at the National American Women Suffrage Association convention. Williams founded several organizations for colored women between 1893 and 1909 and was the first Black woman to serve on the Board of the Chicago Public Library and to be inducted into the Chicago Woman's Club in 1896.
SPONSORED BY AAUW LA CROSSE
Tuesday, March 23
Adelina "Nina" Otero-Warren (1881–1965)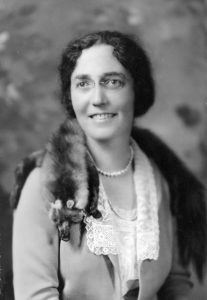 Adelina Isabel Emilia Luna Otero was born on October 23, 1881 on her family's hacienda near Los Lunas, New Mexico. From 1892 to 1894, Otero-Warren attended  Maryville College of the Sacred Heart in "https://en.wikipedia.org/wiki/Saint_Louis,_Missouri" Saint Louis, Missouri. This school helped develop her social consciousness, and it imparted the idea that women could have careers as teachers and community leaders. Adelina married a cavalry officer, Lieutenant Rawson D. Warren in 1908.  Two years later, Otero-Warren divorced her husband. Divorce was frowned upon at that time, so she kept her hyphenated name and told people she was a widow.  In 1914, Otero-Warren started working with the woman's suffrage campaign in New Mexico. In 1917, she became the first Mexican-American state leader of the Congressional Union (CU) in New Mexico, and her leadership rallied support from both the Spanish- and English-speaking communities.  She insisted that suffrage materials be published in both languages to reach the large population of Spanish-speaking women in New Mexico. She played such an important role in this activist effort that Alice Paul, the leader of the CU, credited Otero-Warren with ensuring New Mexico ratified the Nineteenth Amendment.  Otero-Warren created a legacy of civil service through her work in education, politics, and public health. She became one of New Mexico's first female government officials when she served as Santa Fe Superintendent of Instruction from 1917 to 1929. Otero-Warren was the first Latina to run for Congress.   In the early 1930s, together with her partner, Mamie Meadors, Otero-Warren homesteaded 1,257 acres of land near Santa Fe, which they named Las Dos ("The Two Women") Ranch. She and Meadors established Las Dos Realty and Insurance Company in 1947. Until her death in 1965, she continued her life in New Mexico as a businesswoman, educator, writer, and political activist.
SPONSORED BY AAUW LA CROSSE
Wednesday, March 24
Sarah Grinke (1792-1873)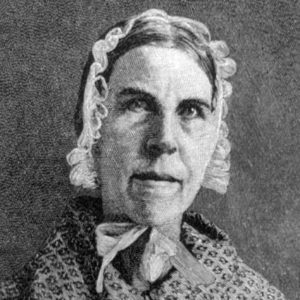 Sarah was an abolitionist and considered by many the "mother of the women's suffrage movement". As the daughter of a wealthy slave-owning family, Sarah learned firsthand of the mistreatment and injustices slaves endured. Her father owned a large plantation, was an attorney, a South Carolina Supreme Court Judge, and legislator. He endorsed slavery and women's subservient position. He was opposed to Sarah's education in substantive subjects such as law, math or science. He was furious when she attempted to teach slave children to read which was illegal in South Carolina. Sarah moved to Pennsylvania where she joined the Quakers and the abolitionist movement. She found that women's rights were inexplicitly connected to arguing for the abolishment of slavery. She was ridiculed for speaking in mixed-gender crowds and for bucking conventional roles of women. Her speeches and her many writings formed the basis of ideas and arguments used by suffragists that came after her. She was quoted by late Supreme Court Justice Ruth Bader Ginsburg, and her life was the basis of a novel, The Invention of Wings (2014), and a character in a play If She Stood (2013). She was inducted into the National Women's Hall of Fame in 1998.
SPONSORED BY AAUW LA CROSSE
Thursday, March 25
Maud Leonard McCreery (1883-1938)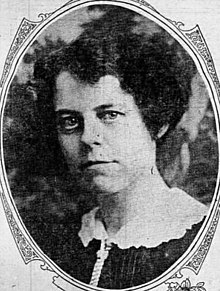 Born in Wauwatosa, Maud Leonard McCreery was a suffragist, labor leader, and newspaper woman. From 1912 through 1918 McCreery toured the United States speaking about votes for women. She did suffrage promotion in Nebraska, South Dakota, Pennsylvania, and Iowa. McCreery served as press chair of the Nevada Equal Suffrage Association in 1914 and legislative chair of the Woman's Party in Milwaukee in 1918. After women earned the right to vote in 1920 she turned her considerable organizing, speaking, and writing skills to newspaper and labor activism work. Her career included work for the Federated Press news service in Chicago, writing a woman's page for the Milwaukee Leader, and employment with the Milwaukee Federated Trades Council and the Farm-Labor-Progressive Federation. In 1936 McCreery became editor of the Sheboygan New Deal, a labor newspaper. The following year she was hired as area organizer for the American Federation of Labor and also taught in the School for Workers at the University of Wisconsin. She died in Milwaukee in 1938. McCreery had been married and divorced twice. In 1945 the Maud McCreery Lodge was founded in Milwaukee, named in her memory by the Ladies' Auxiliary of the machinists' union local.
SPONSORED BY AAUW LA CROSSE

Friday, March 26
David Goodrich James (1843-1921) and Ada Lois James (1876-1952)



David James was born in New Hampshire and moved with his family to Richland County, Wisconsin. He married Laura Briggs and they had one daughter, Ada. All three were involved in the suffrage movement. In 1882, Laura was one of the founders of the Richland Center Woman's Club that worked for women's suffrage. In 1911, Ada was a founding member of the statewide Political Equity League. David was elected to a four-year term as state senator in 1908. Principally due to the work in 1911 of Ada and her father, a suffrage bill passed the Wisconsin Legislature to be voted on by a statewide referendum. Unfortunately, in November of 1912, the referendum failed. Finally, on June 4, 1919, the US Senate passed the 19th Amendment giving women the right to vote, but it could not become law without ratification by 36 states. The race was on to be the first state to ratify the Amendment. Illinois ratified the amendment on June 10th about an hour before Wisconsin did, but the official time was when the state filed its papers in Washington, DC so Wisconsin still had a chance. The Wisconsin Governor appointed David James to carry the documents to Washington in hopes he could beat Illinois. David left immediately by train and on June 13th filed the papers with the State Department, and received a signed statement that Wisconsin was the first. Just as he was leaving, an Illinois representative entered the office in hopes of winning first place, but he was too late. Wisconsin had won the honors.
SPONSORED BY AAUW LA CROSSE
Saturday, March 27
Laura Ross Wolcott, M.D. (1826-1915)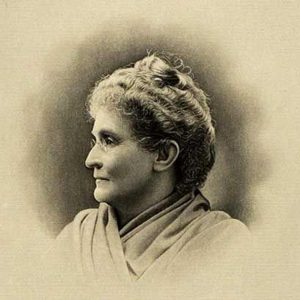 Dr. Laura Ross Wolcott had two obituaries printed in her local newspaper, approximately five or six decades apart. The first one was fake, placed by a male colleague who wanted her gone. He thought that her patients, seeing that she was dead, would seek out another doctor. But a rival newspaper in Milwaukee ran a story that Dr. Wolcott was, indeed, a bonafide physician and still very much alive. At the time woman doctors were considered "quacks." Dr. Wolcott had graduated from the Women's Medical College of Pennsylvania in 1856; the third woman in the United States to earn a medical degree. She was also the first woman medical doctor in Wisconsin. But the male doctors rejected her application to join the Medical Society of Milwaukee County because she was a woman. In frustration Dr. Wolcott moved to Paris, where she attended classes at the University of Paris and the Sorbonne, worked in a hospital, and served as a commissioner to the Paris World's Fair. Upon her return to Milwaukee, Dr. Laura's mentor, the highly respected Dr. Erastus Wolcott, smoothed the way for her admittance to the Medical Society of Milwaukee County. The two doctors eventually married. Dr. Laura Wolcott organized women's suffrage meetings in Madison and Milwaukee. She became the first president of the Wisconsin Woman Suffrage Association and expanded the organization throughout the state. Dr. Wolcott arranged the first suffrage convention in Milwaukee in 1867, with Susan B. Anthony as primary speaker.
SPONSORED BY AAUW LA CROSSE
Sunday, March 28
Elizabeth Thatcher Kent (1863-1952)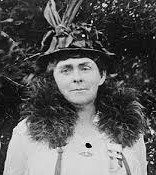 Elizabeth Thatcher Kent is remembered as a women's rights activist and environmentalist. She was a visionary leader in winning the right to vote in California in 1911. Rejecting the high society events, she believed in the necessity of getting out and spreading the message of women's suffrage at every opportunity. After California's successful vote, she moved her activism to the national stage. She joined her husband in Washington D.C. where he was serving as a Congressman from California. She was the featured speaker at the 1913 and 1914 Convention of National American Women's Suffrage Association and she led their Congressional Committee. She helped form the Congressional Union (renamed the Women's Party) which picketed the White House. She was arrested and taken to jail. Her husband paid her bail to keep her out of jail over her objections. She lobbied members of Congress and testified before congressional committees. After returning to California, she and her husband purchased land to protect the cutting of redwood trees. They donated 295 acres to the Federal government which in now the Muir Woods National Monument.
SPONSORED BY AAUW LA CROSSE
Monday, March 29
Carrie P. Daniels (1851-1930)
In 1912 Carrie P. Daniels, a leader of the La Crosse Equal Suffrage League and one of the most earnest workers for the cause in western Wisconsin, began a year-long letter writing campaign to the La Crosse Tribune to share her views on suffrage. Carrie' husband, Judge John A. Daniels, an early champion of women's suffrage in Wisconsin, supported her endeavors. In her letters Carrie appealed to the public for support of the movement and countered arguments against it. In one letter she wrote: "If intelligence is to be the rule in voting, cut out all the ignorant men." In addition to her letters and her work with the La Crosse Equal Suffrage League, Carrie and her friend Florence Bunting, president of the La Crosse Woman Suffrage Association, represented La Crosse at the 28th annual Wisconsin Woman Suffrage Association in Madison. She helped plan the May 2, 1914 Suffrage Day celebration and circulated petitions for an amendment to the Constitution giving women the right to vote. Researched and written by Terry Visger.
SPONSORED BY AAUW LA CROSSE    No picture of Carrie Daniels is available; the attached picture is of Florence Bunting, mentioned in the paragraph.
Tuesday, March 30
Robert Purvis 1810-1898


Abolitionist and political leader Robert Purvis was born in Charleston, South Carolina in 1810 to William Purvis, a wealthy cotton merchant, and Harriet Judah, a woman of Jewish and African ancestry.  As an abolitionist, Purvis worked hard to harbor runaway slaves, especially as a member of the Philadelphia Vigilance Committee, earning him the title of President of the Underground Railroad. Work in the anti-slavery movement drew him into causes, including women's suffrage, temperance, and the rights of Native Americans.  When Lucretia Mott was president, he was a member of the "https://en.wikipedia.org/wiki/American_Equal_Rights_Association" American Equal Rights Association. Purvis also attended the founding meeting of the Pennsylvania Woman Suffrage Association and served as the first vice president. He was criticized for his stance on the "https://www.encyclopedia.com/social-sciences-and-law/law/law-divisions-and-codes/fifteenth-amendment" Fifteenth Amendment, which was ratified in 1870. A lifelong champion of women's rights, Purvis contended that African-American men should not be enfranchised unless women received the vote.  He believed in integrated groups working for greater progress for all.  "In the matter of rights," he would often state, "there is just one race, and that is the human race."  By the end of the Civil War, which gained the emancipation of slaves and suffrage for black men, Purvis had reached his late 50s and became less active in political affairs.  Robert Purvis died in Philadelphia at the age of eighty-seven, survived by his second wife and four of his eight children.
SPONSORED BY AAUW LA CROSSE
Wednesday, March 31
Bertha Pratt King (1879-1962)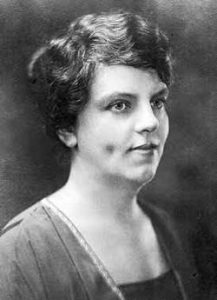 In the early 1900s Bertha Pratt King, a native of Little Falls, New York, graduated from Smith College and came to Terre Haute, Indiana. In 1905 she established the King Classical School, whose mission was to prepare girls for college and gainful employment. The school gained great popularity, was considered a very good college preparatory school, and was approved by the State Board of Education. It flourished until Bertha Pratt King's retirement and the school's closure in 1945. While teaching and running the school, King became very involved in the suffrage movement. In 1914-15 she traveled on lecture tours through Indiana, Illinois, Ohio and Pennsylvania. In 1919-20 she went on suffrage campaigns in Ohio, Wisconsin and Indiana. She was outstanding in literary, educational and suffrage circles in Terre Haute and surrounding areas. During Bertha Pratt King's teaching years she wrote a book The Worth of a Girl. She organized the Forerunners Club, whose members were dedicated to the suffrage movement.  King married long-time friend, poet and philosopher Max Ehrmann after her retirement in 1945. However, he died after only a few months of marriage.
SPONSORED BY AAUW LA CROSSE