Celebrating our Connections is a new monthly column encouraging our members to uncover and share their own personal or ancestors' stories of women who broke ground in large or small ways, helping to develop women's rights. "Who are the s/heroes in your family or community who helped "write our future"? Please send us your stories!
TitleIX
By Andrea Hansen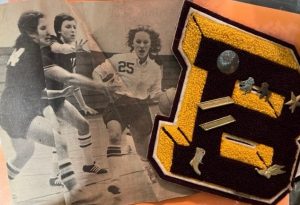 In 1973, I was a 7th grader of the Big Spring Middle School in Newville, PA. An unremarkable morning announcement over the loudspeaker begins this story: "Any student interested in playing 8th grade basketball should report to the gym for a short meeting at the end of school today." There was no need to be explicit. It was understood that any student meant boys only. Sitting in homeroom, this announcement landed as a proverbial "Click!" moment for me. Coined by Ms. Magazine, "Click!" refers to the sudden insight that something unfair and ubiquitous had a name, and that name was sexism. It was the day I became a feminist.
That this experience turned into a small protest still makes me proud. Throughout the day, I talked with friends about showing up at this meeting. After all, we fit the stated "any student" and most of us were interested in basketball. By the end of the day, a group of 7 or 8 girls had gathered to walk down the hall to the gym. I am sure my heart pounded as we walked toward an empty row of bleachers. I remember how quiet and serious we were in this familiar space we had come to understand was not really meant for us.
By 6th grade, my gym classes were segregated by gender. Of course, the sorting had taken shape well before 6th grade through the politics of playgrounds. Despite some objections, "Boys only" and "girls can't play" were heard and accepted. Every day and in every possible way, ideas about gender were reinforced and internalized, and winners and losers were produced. As in most communities, the sorting and patterns of exclusion were solidified and sanctioned by adults through programs, organizations and schools. At the gym, we sat in a row, as the boys we counted as friends stared. The two coaches turned their backs and quietly conversed. Then, with a brief glance in our direction, they turned to talk of dates for physicals, summer camps and tournaments. After 10 minutes, the coaches concluded and the boys headed to the busses with a few lingering to shoot baskets. As the coaches gathered their forms and clipboards, one turned to address us, "You know this is for boys only, don't you? We don't have a girls' team." I said, "Yes, but we should." Nothing more was said. My friends and I hadn't thought to plan what would happened next.
I must have told my mom who worked as an elementary school building aide. She encouraged me to write a letter and found the address of Mr. John Pittenger, Secretary of the Pennsylvania Department of Education. I don't have a copy of my letter and can no longer locate his reply although I know I kept it. What I remember is his assurance that change was coming in the form of Title IX which had passed the previous year. He thanked me for my letter.
Two years later, I was playing basketball as a high school freshman. This first season was difficult, especially when we played against the Catholic girls schools with their established basketball programs. I have a vague memory of laughter from the bleachers where the boys from the basketball team watched us as we took the court after their practice. I never felt confident of my shooting skills, but I got better. The Bulldogs Girls Basketball Team got better.
Despite the continuing challenges, Title IX of the Educational Amendment to the Civil Rights Acts of 1961 changed history and continues to change lives. For more information on Title IX, including current attack on educational and athletic access for transgender youth, see the links below.
https://www.ncwge.org/PDF/Title%20IX%20Timeline.pdf https://www.aauw.org/resources/article/title-ix-challenges/ https://www.glsen.org/activity/gender-affirming-inclusive-athletics-participation
_______________________________
Historian's Corner
by Marilyn Hempstead, Branch Historian
The CARTWRIGHT and ANNETT CENTERS
It is fitting for Women's History Month to write of two AAUW members whose names are enshrined on UW-L buildings.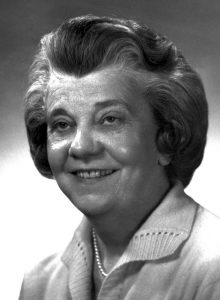 Edith Cartwright (1906-?) graduated from Wisconsin State Normal School in 1928 with a major in physical education. After teach- ing at the high school level, she went back to her alma mater (then called Wisconsin State Teachers College) in 1941 to become the Dean of Women, a position she held until her retirement in 1969. Always looking to improve the situation of female students, she created the Women's Self Government Association (WSGA) and established residence halls for women on campus. Respected by students, faculty and community members alike, the college recognized her contributions by renaming the student union the Cartwright Center in 1964. In 1969 the La Crosse Branch of AAUW gave a scholarship in her name.
Margaret Annett (1911-2002) graduated from Central High School in 1929 and La Crosse State College in 1934. She became the librarian at UW-L Murphy Library in 1950 serving until 1977. In 1965 she joined our branch and worked with the Home Tour and Art Fair on the Green. A dedicated and eclectic community activist, Margaret was a member of the school board and the boards of La Crosse Symphony Society, Missis- sippi Valley Archaeological Society. Her support of women was evident in her belonging to the Women's Political Caucus and the National Organization for Women.
While serving on the La Crosse Housing Authority board of directors, Margaret campaigned

for day care facilities to be available in the community. Because of her efforts the new day care facility on campus was named in her honor in 1975. It is now the Margaret Annett Head Start Center. A further honor was the naming of the Annett Recital Hall for her and her music faculty husband Thomas.
____________________________________
Women's eNews
https://womensenews.org/
Our Vision: A world that honors, respects and supports the lives of women and girls.
Women's eNews reports the stories of women and girls to create a more equitable world. It is an award-winning nonprofit (501c3) news service covering issues of particular concern to women and providing women's perspectives on public policy. Women's eNews editors seek out freelance writers from around the world to write on every topic–politics, religion, economics, health, science, sustainability, education, sports, legislation–and commission them to write 800-word news articles for distribution each day to our subscribers and for posting on our Web site.
_____________________________________
Incredible Inventions by Women that Changed the World
by Dr. Pamela Williamson, Women's Business Enterprise Council
1. Circular saw
Inventor: Tabitha Babbitt Year: 1812
Babbit lived in the Shaker community and worked as a weaver. She noticed people having difficulty cutting wood with a pit saw. This type of saw required 2 people to use it, and it only cut wood in a single direction. To provide a solution to the problem she attached a circular blade to a spinning wheel which resulted in the invention of the circular saw.
2. Dishwasher
Inventor: Josephine Cochran Year: 1872
Cochran came up with the invention to use water pressure, instead of scrubbers that were used back then, to clean dishes. Although there were other prototypes, Cochran's design was the most effective one from the rest.
3. Life raft
Inventor: Maria Beasley Year: 1882
Maria Beasley was a serial inventor who was already credited with the barrel- hopping machine patent. She later designed a life raft with guard rails that was foldable and fireproof. The life rafts created based on her design were used on the Titanic, and saved over 700 lives.
4. Windshield wiper
Inventor: Mary Anderson Year: 1903
Anderson was refused by manufacturers when she tried to sell her new windshield cleaning device. However, it was only after 10 years, and after her patent expired, that a similar device became a standard on cars.
Learn more about Women's Business Enterprise Council: https://wbec-west.com/
_________________
Making a Difference in Women's Lives
By Jan Eriksen
As my sister Mary Beth Paquette prepares to retire this month, I'm reflecting on the realization that she is the first real feminist in our family.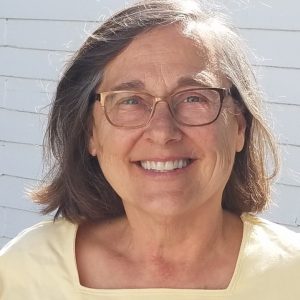 She earned a B.S. degree in Child and Family Community Services from Bowling Green State University in 1977 and then joined VISTA (Volunteers in Service to America). Her first assignment was at a women's shelter in Anchorage, Alaska, the only refuge for survivors of domestic abuse in the state at that time. Mary Beth devoted a year to learning the operation before being sent to Nome to establish the Bering Sea Women's Shelter.
Following two years in Alaska, Mary Beth spent all of 1980 studying for a B.A. degree in Women's Studies at Western Washington University in Bellingham. From Washington she re-joined VISTA and spent two years in Idaho, working with the state disability office in Idaho Falls and then with the Task Force on Child Sexual Abuse in Pocatello. While in Pocatello Mary Beth volunteered with victims of domestic abuse. "There was a cowboy mentality," she said. "Many of the perpetrators attempted to justify the abuse and the Mormons hid the abuse."
Mary Beth then moved to the state that would become home: Maine. She began as director of Caring Unlimited, the southernmost women's shelter in Maine. Her later work included 10 years with Women Unlimited, funded by the Maine Department of Transportation and headquartered in Augusta. The curriculum operated at various locations around Maine, primarily at community colleges. Mary Beth began as a program coordinator. Although the program was open to any woman who wanted to work in the trades, most students were on state assistance. Grants covered nearly all of their tuition. Some of the non-traditional careers that women prepared for included auto mechanics, printing press operations, Class B truck driving, carpentry, computer-aided design, pipe fitting, and landscaping.
Mary Beth was promoted to senior program coordinator and eventually became executive director. Women who completed the course work were eligible to take an entry-level engineering test (Engineering I) and then could apply for positions with the DOT or with private industry.
My sister Mary Beth made a positive difference in women's lives during her career, but she's just one person. We still have a long way to go with preventing domestic violence and with educating women and girls for STEM and trade careers. For example, a recent report on National Public Radio indicated that women hold only 3% of jobs in the trades (such as plumbing, electrical, and ironworking) in the United States. The broadcast went on to indicate that part of the reason it can be difficult to retain women in the trades is inappropriate behavior and language on the part of their male co-workers. Both women and men prospective trade workers are in need of training and possibly apprenticeships. Veteran as well as incoming tradesmen can also benefit from sexual harassment awareness workshops.