2017-2018
Wednesday December 6, 2017:

7:00 to 8:30 pm Eagle Residence Hall Basement (1500 La Crosse Street),  Women in Elected Positions. Read more:  Women in Elected Positions Panel Publicity 3.
WHAT:   Women talking about their experiences in running for an elected position and why it's important to have women running for elected positons.  There will also be volunteers from the League of Women Voters to register individuals to vote before and after the panel.
FEATURING:  Rep. Jill Billings, School Board member Laurie Cooper Stoll, County Board Chair Tara Johnson and City Council member Jacqueline Marcou.
Wednesday, November 15, 2017: 6:00-8:00 pm. at UW-L. AAUW-LaCrosse and Women's Gender Studies, UW-L are sponsoring a Start Smart Workshop fo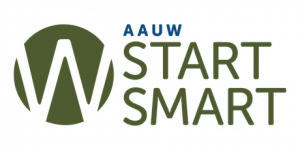 r students.  The workshop is designed to help students, especially women, learn how to negotiate for their starting salary. The gender pay gap averages 75% to 54% based on ethnicity. These workshops have been presented across the country & are sponsored by AAUW-National.
Carol Robertson will serve as facilitator for the workshop.
Contact us at aauwlacrosse@hotmail.com or through the "contact us" form on this website to register and for more information.
2016-2017 (Archived)

Thursday, April 13, 2017:  Feminism Fest. UWL Student Union 6:pm-7:30pm
Our branch will have an information table and display at this first Feminism Fest, sponsored by UWL students.
Thursday, April 13, 2017:  WINGS workshop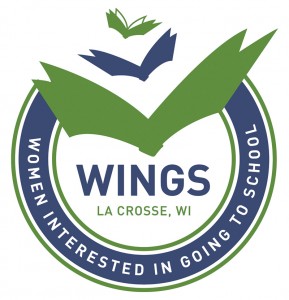 8:30am-1:30pm.  Myrick Park Center.  Free.
See separate tab for registration and information.
This program helps women gain the confidence to pursue higher education.
Tuesday, April 4: Equal Pay Day table at the UWL Student Union. 10am-2pm
Providing information and cookies to UWL students. Coordinated  by Public Policy Intern Kathryn Draper.
Wednesay, March 8, 2017 :  International Women's Day Panel;
5:00pm social; 5:30pm program.   UWL, Centennial Hall, Free.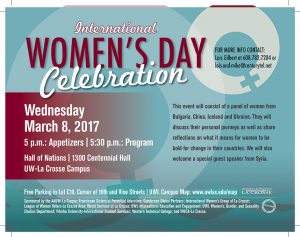 A coalition of organizations & university departments joins our AAUW La Crosse Branch in co-sponsoring an International Women's Day celebration. International Women's Day is celebrated all over the world annually on March 8th. The theme for 2017 is Be Bold For Change.
A panel of women from Iceland, China, Bulgaria, Ukraine and Syria will discuss their personal journeys and share their reflections on what it means for women to be bold for change in their country.

Our 2017 panelists, from L-R:
Kalina Bozadjieva, Blugaria; Katrin Haraldsdottir, Iceland; Kiya Zhen, China; Olena Belka, Ukraine; Ghada Ghazal, Syria.
January- February 2017 Fundraiser
La Crosse's People's Food Co-op  has been selected the AAUW Art Fair on the Green as one of the nonprofit organizations to be a Beans for Bags recipient for the months of January and February, 2017.
This easy-peasy fundraiser, lasting two months, means that any time someone shops at the Co-op and brings their own reusable bag, the shopper will receive a bean (for each reusable
bag used) and can use that bean to "vote" by placing it in the glass jar labeled AAUW Art Fair on the Green. Each bean means a donation of five cents, which is the reusable bag credit. IT ALL ADDS UP! There are three different recipients, thus three glass jars, each time. Choose ART
FAIR!
Every two months, the PFC chooses three local nonprofit groups as Beans for Bags recipients, and the choices are based on the areas of food, animal well-being, and social justice.
Please take reusable bags every time you shop at the Co-op in January and February and ask for one bean per bag, then use that bean to vote for Art Fair on the Green. And please encourage your friends, relatives, and neighbors to help with this easy-peasy fundraiser for us also. Thank you!
Wednesday, Nov. 17th, 2016:  Community reception for our Kosovo guests
4:30 – 6:30 p.m. on UW-L campus at Centennial Hall, Hall of Nations. They will speak to the group at 5:30 p.m. Please pass the word to groups you are involved in, friends, neighbors, etc. NO reservation necessary.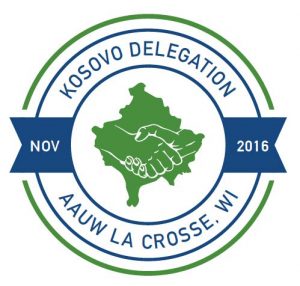 2015-2016 (Archived)

April 28 (Thursday), 2016


WINGS (Women INterested in Going to School) workshop
8:30am-1:30pm    Myrick Park Eco Center   FREERegistration open now–see "WINGS" tab on HOME page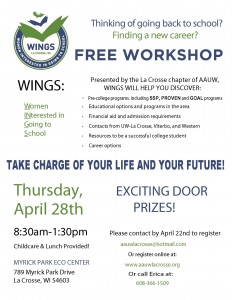 April 12 (Tuesday), 2016: Equal Pay Day Event
April 12th will be recognized around the country as Equal Pay Day. The date symbolizes how far into the year women must work to earn what men earned in the previous year.  Natalie Leuck, our UWL AAUW Public Policy intern, has arranged for a table inside the front doors of the Cartwright Center on April 12th from 10am – 2pm.  AAUW and UWL students will pass out cookies with a piece cut out to represent the bite out of women's wages and we will distribute information about the gender pay gap.  Equal Pay Day will also be displayed on the neon sign  at the front of the Cartwright Center.  Please stop in and see our display, banner and pink Equal Pay Day t-shirts!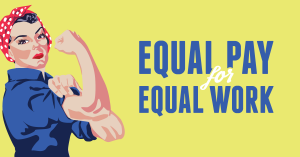 March 10 (Thursday), 2016
International Women's Day Panel;  5:00pm social; 5:30pm program.
UWL, Centennial Hall, Free.
A coaliti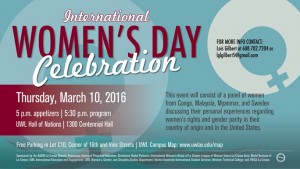 on of organizations & university departments joins our AAUW La Crosse Branch in co-sponsoring an International Women's Day celebration.International Women's Day is celebrated all over the world annually on March 8th. The theme for 2016 is Pledge for Parity and the focus of our presentation is Women's Rights. The World Economic Forum has predicted that will take until 2133 to achieve global gender parity. Read more and take the pledge to take a concrete step to help achieve gender parity more quickly at: http://www.internationalwomensday.com/Theme.
Mark your calendar to hear panelists from the Congo, Malaysia and Sweden discuss what they've experienced for women's rights in their country or origin and how it compares to what they've experienced in the US. This will be the 4th annual program in La Crosse that AAUW has initiated to commemorate this special day.
Sponsoring organizations are AAUW La Crosse, YWCA, League of Women Voters of La Crosse, World Services of La Crosse, Gundersen Global Partners, International Women's Group of La Crosse, UW-L Office of International Education, UW-L Women's, Gender and Sexuality Studies Dept., the Franciscan Sisters of Perpetual Adoration, Viterbo University and WTC.
2014-2015 (archived)
April 14, 2015
Equal Pay Day Event…by Katilyn Grueter, Public Policy Intern
Equal Pay Day is Tuesday, April 14th, 2015. It is a day intended to raise awareness of the gender pay gap that still exists between women and men today. According to the White House, women
make only 77 cents on the dollar that men make. The pay gap is even wider for women of color compared to white men.
Pay equality matters because this is lost income that could have been used to pay college tuition and bills; buy a house or car; or help support a family.
To help raise awareness, AAUW will be having a table at Cartwright Center at the University of Wisconsin – La Crosse from 10am-2pm on April 14th, where we will provide more information
on pay equality issues at national and local levels, along with some cookies.
Anyone interested in learning more about pay equality is welcome to stop by.
The AAUW reports, The Simple Truth About the Gender Pay Gap and Graduating to a Pay Gap:
The Earnings of Women and Men One Year after College Graduation, will be available at the table, at AAUW meetings, or by contacting Carlene Roberts at camcar876@gmail.com.
Additionally, the YWCA will be hosting Equal Pay Day activities at Western Technical College.
April 17-18, 2015

Women Moving Ahead (WMA) is a collaborative multi-day conference to encourage the development of skills necessary for women to succeed in the professional world. AAUW along with several other community and student organizations have been on the planning committee since its inception. All events will be hosted at UW-L and kicks off most probably on April 8 with a free film and facilitated discussion.
The main conference starts at 9:00 AM on Friday, April 17 with a keynote address delivered by Shelmina Abji, a senior executive at IBM in their Information Technology Sector and an UW-L alum originally from Tanzania.
Senator Jennifer Shilling and Representative Jill Billings will speak on their experiences as legislators, and there is an international women's forum, along with other presentations on building confidence and developing your voice, and how to transform workplaces.
AAUW's $tart $mart negotiating salaries and benefits workshops are on Saturday, April 18 from 9:00 AM until 12:15 PM and local members will help facilitate the workshops.
Women Moving Ahead has its own webpage and it is the only place to register: http://womenmovingahead. org/
Registration for non-students is $25 for the Friday WMA Conference and $15 for the $tart $mart Workshop. Student fees are reduced and will be refunded when they attend.
This is the first WMA Conference, but there are already movements to make it an annual
event. Mark your calendar for these interesting and educational programs supporting our local women students.
April 18, 2015
This workshop has been postponed until spring 2016.


WINGS (Women INterested in Going to School)
This program helps women gain the confidence to pursue higher education.
Stay tuned for more details!
March 28, 2015
Iron Jawed Angels
Free showing!
Sparta Cinema 6
Saturday, March 28
10:00 am
Donations requested to support Brighter Tomorrows
Co-sponsored by AAUW LaCrosse, Options Clinic, League of Women Voters La Crosse and
Brighter Tomorrows