2020-2021
AAUW Wisconsin 2021 Convention – Virtual
Friday evening – April 23, 7:00 PM to 9:30 PM
Saturday – April 24. 9:30 AM to 3:00 PM
Click on – https://aauwwistateconvention.com
by Jan Eriksen, Convention Committee
The website for the AAUW Wisconsin 2021 Convention, constructed
by Ann Brice, is https://aauwwistateconvention.com/.
There you can see the full conference schedule, register
for the conference, bid on auction items, purchase commemorative AAUW-WI suffrage lapel pins (designed by Erica Koonmen and her daughter Tegan Jerde-Koonmen), and download the convention program booklet.
The convention will take place over Zoom April 23 and 24. Friday evening from 7:00 – 9:00 p.m. and Saturday 9:30 a.m.- 3:15 p.m. The virtual auction opens Thursday, April 22 at 8:00 a.m. and runs through 8:00 p.m. on Tuesday, April 27. The auction will raise funds for AAUW's Greatest Needs Fund. The fund's use ranges from developing and reporting on research that follows the gender pay gap to pivoting to respond to up-to-the- minute developments like the #METOO movement.
Although there is no cost to attend the convention, registration is still required. Members may register for just one session, all conference sessions, or any number in between. If you would like assistance using Zoom, the website indicates how to get help. And please be sure to look at the convention program booklet, which Ann emailed to La Crosse branch members on March 19 and is also available as a link at the bottom of the first page of the website. Not only is it full of useful information about AAUW Wisconsin and the convention, but it also contains brief biographies and photos of Wisconsin women leaders of the 1920s. The stories about women activists of 100 years ago and the presentations from outstanding women of today underline the convention's theme: "Reflect on the Past; Prepare for the Future."
_______________________
by Jan Eriksen, Convention Committee
Did you know that this year marks the 100th anniversary of AAUW in Wisconsin? Please plan on joining us as we toast our first 100 years of AAUW in Wisconsin. We hope that the activity of our many statewide members will secure the future of AAUW for many years to come.
Even if you choose not to attend any sessions, read through the convention program and learn about the many women in our state who have taken on leadership roles and what they are achieving. All members have an opportunity to purchase the commemorative AAUW pin. You will also be able to participate in the on-line auction that will take place from April 21 – 27. Many of us are getting pretty good at navigating Zoom meetings, so we hope that you will join us during our convention.
Note: Pam Thiel will portray Carrie Chapman Catt in a conversation with Helen Bannon as Jesse Jack Hooper on Friday, April 23rd.
Conference attendees may come and go as they wish and it is anticipated that registration will be at no charge for members of AAUW branches in Wisconsin. More information about the convention will follow in each issue of "The Current" and in e-mail messages.
Our branch will have a major role in the convention because President Ann Brice has just been announced as Technology Coordinator for the event. Member Pam Thiel will help kick off the conference by portraying early suffragist Carrie Chapman Catt. Tegan Jerde-Koonmen, daughter of member Erica Koonmen and granddaughter of honorary life member Joan Koonmen, designed the logo for the convention.
Thank you to everyone who responded to the survey, sent via Email in mid-October, regarding the annual state convention. The convention planning committee received more than 158 replies from throughout the state and is working on selecting conference session topics based on that feedback. The highest scoring topics of interest were: ideas for branch programs that are mission-driven and affordable, how to promote social justice and diversity, membership retention and recruitment ideas, climate change issues and action, ideas for increasing branch visibility through social media and other venues, interest group ideas, and fundraising ideas.
To visit AAUW state convention: https://aauwwistateconvention.com
Looking for something new and interesting to watch during your stay- at-home time? The National Women's History Museum has over 30 virtual exhibits! You'll find everything from "Women of NASA" to "Inventive Women." https://www.womenshistory.org/womens-history/online-exhibits . Here's one: Maria Tallchieft: America's Ballarina. The exhibit explores the life and career of Tallchief, the first prima ballerina in the United States and the first in the nation to perform beloved roles such as The Nutcracker's Sugar Plum Fairy and the title role of Firebird. A proud Osage woman, Tallchief broke boundaries as she navigated the rigid expectations of the ballet world and cultural stereotypes of Native Americans. As a performer, teacher, and role model, Tallchief inspired women from all backgrounds to become performers and ballet enthusiasts. The Maria Tallchief: America's Prima Ballerina exhibit is available on the Museum's website, and a biography of Tallchief is featured here.

PAST EVENTS
November 13-20, 2020:
Virtual Global Initiatives Week.
Thursday Oct 1, 2020; 6:00pm-8:00pm, virtual event
Anti-Racism: The La Crosse Area View Point
The Greater La Crosse Diversity Council invites you to join them for this urgent roundtable discussion, shaped by the perspective of local leaders: Shaundel Spivey, Rebecca Schwarz, Ricardo Acevedo, Dr. Bee Lo, Nicky Buck, and Amanda Goodenough, as they collectively react to and process the current state of racism in the here and now and ultimately explore what it would take to realize a healthier multicultural community. Don't miss out on being part of this high-priority conversation to shift the La Crosse area toward racial justice.
For more information, click HERE
To register, click HEREz
AAUW Public Policy Day.
Attend virtual sessions regarding our elections: Click to Register
1. August 25th, 2020 from 6:30 to 8:30 PM.
Topic: Fair Redistricting and Public Education – Read more . . .
2. August 27th, 2020 from 6:30 to 8:30 PM.
Topic: How to be an informed voter and help Get Out The Vote – Read more . . .
AAUW reminds us to be non-partisan and fair to ALL citizens – Read more…
Please Vote Nov. 3rd! For voting information go to myvote.wi.gov.
2019-2020
AAUW National Election
Voting Takes Place Wednesday, April 8, through Monday, May 18. AAUW members play an important role in shaping the future for women and girls by choosing the organization's leaders and policy priorities.
Each spring, AAUW members have the opportunity to vote on candidates for open seats on the organization's board of directors, along with any proposed amendments to the AAUW bylaws. AAUW's board is made up of 15 AAUW members, including 12 board members elected by the AAUW membership and three board members appointed by the board of directors. Board members have staggered terms.
This year, members will vote on four directors. Voting takes place online, unless a member requests a paper ballot. To vote, you will need your member ID and PIN, which have been sent to you in an email.
At  https://www.aauw.org/resources/member/governance-tools/national-election/, you can read the personal statements from each of the candidates, as well as answers to questions about their vision for AAUW. You can also leave questions or comments to learn more about their position on the issues that matter most to you.
Every Voice Matters VOTE NOW

Public Policy – Equal Pay Day 2020
Equal Pay Day was Tuesday March 31st, and usually the La Crosse branch of AAUW sponsors a table at UWL to showcase this important date, but I wanted to reflect on the importance of equal pay especially given our current health and economic crisis.
Equal Pay Day marks how far into the year women have to work to get paid what men were the previous year. According to the United States Census Bureau, in 2018, women earned 81.6 cents to every dollar earned by men. This was already an issue, but COVID-19 has become a threat to the progress on closing the gender pay gap, especially since mothers choose their jobs based on their children and child-care availability over career goals or finances. Read More …

2020 AAUW-WI State Convention – Canceled
March 8 was a beautiful 65° day in La Crosse and about 170 people stopped by the UW-L Student Union to attend the AAUW-sponsored International Women's Day Celebration. AAUW has been sponsoring this event since 2013 and its beginnings are based on research conducted by Erica Koonmen.
This year, AAUW was joined by 13 other community sponsoring organizations who share similar missions of supporting women and fighting racism. New to the event, a free photo booth provided by UW-L offered people the chance to pose and "vogue" with the slogan for IWD: #EachforEqual, meaning that, separately and collectively, we can all fight for gender equity. Other signs and props were also provided and people really hammed it up posing with friends, family, sponsors, and panelists.
The panelists this year were La Crosse residents who have left their first country and adopted the U.S. They represented the nations of Kosovo (AAUW member Lema Kabashi, Ph.D.), Myanmar, Pakistan, and Poland. Each of the panelists described their journey and what they have learned along the way. Their resilience and bravery through hardships were readily apparent. It was very impressive to learn how the panelists are contributing to our shared community. The audience survey comments were heartening to the planning committee and included remarks like, "very inspiring speakers," and "It is interest- ing to hear speakers that have different roots and came from different countries but they have come to the same consciousness. I understand that education is an important role to secure women's rights."
If you were unable to attend this event, you can see and hear the entire program by using this link:   https://mymedia.uwlax.    (edu/Mediasite/Play/acfe236d70ab4ddcb8f204322d9cf06e1d)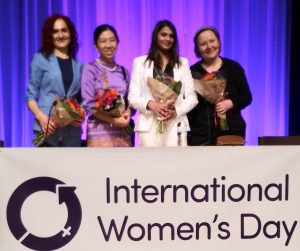 L-R: Lema Kabashi, Dr. Wah Wah Htun, Maira Sarfraz and Ania Meier

Free The Girls Bra Collection,
Helping sex trafficking victims reintegrate into their community:  www.freethegirls.org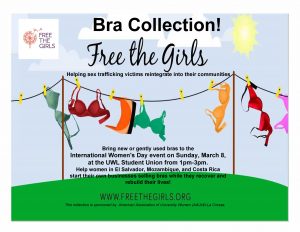 Sunday, March 8, 2020:  International Women's Day Celebration, 1:00 PM to 3:00, UWL Student Union, Free.
FREE Parking in the lot behind the Cleary Alumni & Friends Center and on levels 1, 2, and 3 in the parking ramp closest to the new Student Union.
The International Women's Day 2020 campaign theme of
I Am Generation Equality; Realizing Women's Rights.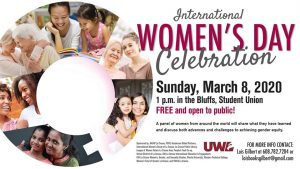 2018-2019
Saturday, July 27 and Sunday, July 28: AAUW Art Fair on the Green
   See complete details under the "Art Fair on the Green" tab
Wednesday, May 1, 2019:  Equal Means Equal movie
5:30pm, La Crosse Main Public Library
Free!  Refreshments provided!
Q&A/Discussion will follow the 90 minute movie.  Facilitated by Janette Dean, Human Rights Activist.
Equal Means Equal is a look at how women are treated in the U.S. today.  Following real life stories and precedent-setting legal cases, director Kamala Lopez discovers how outdated discriminatory attitudes influence seemingly disparate issues.  She reveals the inadequacy of present laws that claim to protect women, underscoring the urgency of ratifying the Equal Rights Amendment.  Special thanks to the Women's Fund of Greater La Crosse for the grant funds that allowed us to purchase the screening license!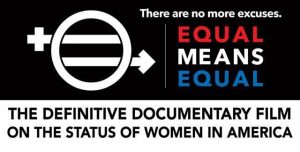 Friday, April 12, 2019: WINGS Workshop

 8:30am-1:30pm   Myrick Park Center
Free.  Childcare provided.
See separate tab for registration and information.
This program helps women gain the confidence to pursue higher education.
Tuesday, April 2, 2019: Equal Pay Day information table
11am-1pm, UWL Whitney Center
Our Public Policy interns along with branch members will present information as well as hand out cookies to raise awareness of Equal Pay Day.

Thursday, March 7, 2019:  International Women's Day Celebration
5:00pm social; 5:30pm program.   UWL, Student Union Bluff room, Free.
FREE Parking starting at 4 p.m. in the lot behind the Cleary Alumni & Friends Center and on levels 1, 2, and 3 in the parking ramp closest to the new Student Union.
The International Women's Day 2019 campaign theme of #BalanceforBetter is a call-to-action for driving gender balance across the world.
Please join us for the annual International Women's Day Celebration panel discussion. Hear four cultural perspectives from women sharing their personal journeys within their culture of origin and reflecting on the challenges they've faced in that environment. This year's presenters:
~ U.S. Territory – Puerto Rico – Dr. Maribel Bird – retired educator
~ Uganda – Sister Sarah Nakyesa – graduate student in nursing at Viterbo
~ France – Eva Ewers – Co-owner of Le Chateau Restaurant in La Crosse
~ Bhutan – Khendum Gyabak-Kumba, Senior Media Specialist at UW-La Crosse
Mark your calendar now and plan to join us for this important event, intended to combat racism in our community and to promote global understanding. It's a wonderful way to meet neighbors you didn't know you had!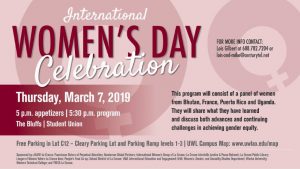 Co-sponsored by AAUW La Crosse; Franciscan Sisters of Perpetual Adoration; Gundersen Global Partners; La Crosse Interfaith Justice & Peace Network; La Crosse Public Library; International Women's Group of La Crosse; League of Women Voters-La Crosse Area; People's Food Co-op; School District of La Crosse; UWL International Education and Engagement; UWL Women's, Gender, and Sexuality Studies Department; Viterbo University-International Student Services; Western Technical College; and YWCA La Crosse.
2017-2018 (Archived)
Thursday, March 8, 2018:

  International Women's Day Celebration
5:00pm social; 5:30pm program.   UWL, Centennial Hall, Free.

A coalition of local organizations and university departments joins our AAUW La Crosse branch in co-sponsoring the annual International Women's Day Panel. Women from Colombia, Ghana, India and Romania will discuss both advances and continuing challenges in achieving gender equity in their native countries.
International Women's Day is celebrated all over the world on March 8th.  The theme for 2018 is: #PressforProgress.
Wednesday December 6, 2017:

7:00 to 8:30 pm Eagle Residence Hall Basement (1500 La Crosse Street),  Women in Elected Positions. Read more:  Women in Elected Positions Panel Publicity 3.
WHAT:   Women talking about their experiences in running for an elected position and why it's important to have women running for elected positons.  There will also be volunteers from the League of Women Voters to register individuals to vote before and after the panel.
FEATURING:  Rep. Jill Billings, School Board member Laurie Cooper Stoll, County Board Chair Tara Johnson and City Council member Jacqueline Marcou.
Wednesday, November 15, 2017: 6:00-8:00 pm. at UW-L. AAUW-LaCrosse and Women's Gender Studies, UW-L are sponsoring a Start Smart Workshop fo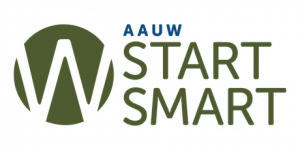 r students.  The workshop is designed to help students, especially women, learn how to negotiate for their starting salary. The gender pay gap averages 75% to 54% based on ethnicity. These workshops have been presented across the country & are sponsored by AAUW-National.
Carol Robertson will serve as facilitator for the workshop.
Contact us at aauwlacrosse@hotmail.com or through the "contact us" form on this website to register and for more information.
2016-2017 (Archived)

Thursday, April 13, 2017:  Feminism Fest. UWL Student Union 6:pm-7:30pm
Our branch will have an information table and display at this first Feminism Fest, sponsored by UWL students.
Thursday, April 13, 2017:  WINGS workshop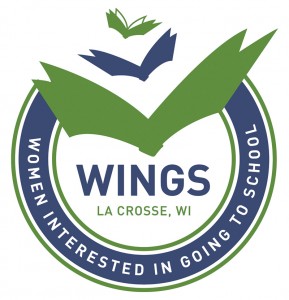 8:30am-1:30pm.  Myrick Park Center.  Free.
See separate tab for registration and information.
This program helps women gain the confidence to pursue higher education.
Tuesday, April 4: Equal Pay Day table at the UWL Student Union. 10am-2pm
Providing information and cookies to UWL students. Coordinated  by Public Policy Intern Kathryn Draper.
Wednesay, March 8, 2017 :  International Women's Day Panel;
5:00pm social; 5:30pm program.   UWL, Centennial Hall, Free.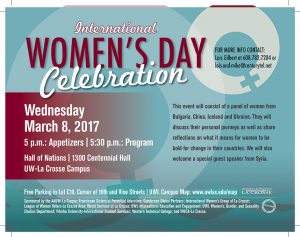 A coalition of organizations & university departments joins our AAUW La Crosse Branch in co-sponsoring an International Women's Day celebration. International Women's Day is celebrated all over the world annually on March 8th. The theme for 2017 is Be Bold For Change.
A panel of women from Iceland, China, Bulgaria, Ukraine and Syria will discuss their personal journeys and share their reflections on what it means for women to be bold for change in their country.

Our 2017 panelists, from L-R:
Kalina Bozadjieva, Blugaria; Katrin Haraldsdottir, Iceland; Kiya Zhen, China; Olena Belka, Ukraine; Ghada Ghazal, Syria.
January- February 2017 Fundraiser
La Crosse's People's Food Co-op  has been selected the AAUW Art Fair on the Green as one of the nonprofit organizations to be a Beans for Bags recipient for the months of January and February, 2017.
This easy-peasy fundraiser, lasting two months, means that any time someone shops at the Co-op and brings their own reusable bag, the shopper will receive a bean (for each reusable
bag used) and can use that bean to "vote" by placing it in the glass jar labeled AAUW Art Fair on the Green. Each bean means a donation of five cents, which is the reusable bag credit. IT ALL ADDS UP! There are three different recipients, thus three glass jars, each time. Choose ART
FAIR!
Every two months, the PFC chooses three local nonprofit groups as Beans for Bags recipients, and the choices are based on the areas of food, animal well-being, and social justice.
Please take reusable bags every time you shop at the Co-op in January and February and ask for one bean per bag, then use that bean to vote for Art Fair on the Green. And please encourage your friends, relatives, and neighbors to help with this easy-peasy fundraiser for us also. Thank you!
Wednesday, Nov. 17th, 2016:  Community reception for our Kosovo guests
4:30 – 6:30 p.m. on UW-L campus at Centennial Hall, Hall of Nations. They will speak to the group at 5:30 p.m. Please pass the word to groups you are involved in, friends, neighbors, etc. NO reservation necessary.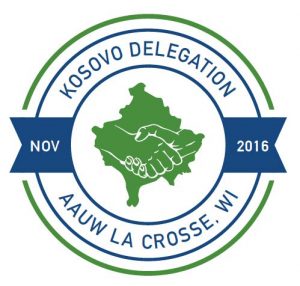 2015-2016 (Archived)

April 28 (Thursday), 2016


WINGS (Women INterested in Going to School) workshop
8:30am-1:30pm    Myrick Park Eco Center   FREERegistration open now–see "WINGS" tab on HOME page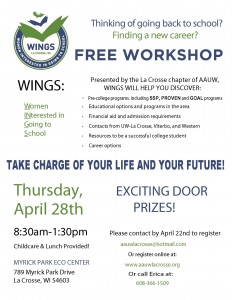 April 12 (Tuesday), 2016: Equal Pay Day Event
April 12th will be recognized around the country as Equal Pay Day. The date symbolizes how far into the year women must work to earn what men earned in the previous year.  Natalie Leuck, our UWL AAUW Public Policy intern, has arranged for a table inside the front doors of the Cartwright Center on April 12th from 10am – 2pm.  AAUW and UWL students will pass out cookies with a piece cut out to represent the bite out of women's wages and we will distribute information about the gender pay gap.  Equal Pay Day will also be displayed on the neon sign  at the front of the Cartwright Center.  Please stop in and see our display, banner and pink Equal Pay Day t-shirts!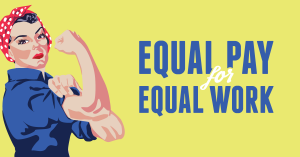 March 10 (Thursday), 2016
International Women's Day Panel;  5:00pm social; 5:30pm program.
UWL, Centennial Hall, Free.
A coaliti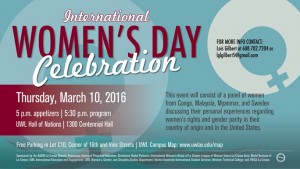 on of organizations & university departments joins our AAUW La Crosse Branch in co-sponsoring an International Women's Day celebration.International Women's Day is celebrated all over the world annually on March 8th. The theme for 2016 is Pledge for Parity and the focus of our presentation is Women's Rights. The World Economic Forum has predicted that will take until 2133 to achieve global gender parity. Read more and take the pledge to take a concrete step to help achieve gender parity more quickly at: http://www.internationalwomensday.com/Theme.
Mark your calendar to hear panelists from the Congo, Malaysia and Sweden discuss what they've experienced for women's rights in their country or origin and how it compares to what they've experienced in the US. This will be the 4th annual program in La Crosse that AAUW has initiated to commemorate this special day.
Sponsoring organizations are AAUW La Crosse, YWCA, League of Women Voters of La Crosse, World Services of La Crosse, Gundersen Global Partners, International Women's Group of La Crosse, UW-L Office of International Education, UW-L Women's, Gender and Sexuality Studies Dept., the Franciscan Sisters of Perpetual Adoration, Viterbo University and WTC.
2014-2015 (archived)
April 14, 2015
Equal Pay Day Event…by Katilyn Grueter, Public Policy Intern
Equal Pay Day is Tuesday, April 14th, 2015. It is a day intended to raise awareness of the gender pay gap that still exists between women and men today. According to the White House, women
make only 77 cents on the dollar that men make. The pay gap is even wider for women of color compared to white men.
Pay equality matters because this is lost income that could have been used to pay college tuition and bills; buy a house or car; or help support a family.
To help raise awareness, AAUW will be having a table at Cartwright Center at the University of Wisconsin – La Crosse from 10am-2pm on April 14th, where we will provide more information
on pay equality issues at national and local levels, along with some cookies.
Anyone interested in learning more about pay equality is welcome to stop by.
The AAUW reports, The Simple Truth About the Gender Pay Gap and Graduating to a Pay Gap:
The Earnings of Women and Men One Year after College Graduation, will be available at the table, at AAUW meetings, or by contacting Carlene Roberts at camcar876@gmail.com.
Additionally, the YWCA will be hosting Equal Pay Day activities at Western Technical College.
April 17-18, 2015

Women Moving Ahead (WMA) is a collaborative multi-day conference to encourage the development of skills necessary for women to succeed in the professional world. AAUW along with several other community and student organizations have been on the planning committee since its inception. All events will be hosted at UW-L and kicks off most probably on April 8 with a free film and facilitated discussion.
The main conference starts at 9:00 AM on Friday, April 17 with a keynote address delivered by Shelmina Abji, a senior executive at IBM in their Information Technology Sector and an UW-L alum originally from Tanzania.
Senator Jennifer Shilling and Representative Jill Billings will speak on their experiences as legislators, and there is an international women's forum, along with other presentations on building confidence and developing your voice, and how to transform workplaces.
AAUW's $tart $mart negotiating salaries and benefits workshops are on Saturday, April 18 from 9:00 AM until 12:15 PM and local members will help facilitate the workshops.
Women Moving Ahead has its own webpage and it is the only place to register: http://womenmovingahead. org/
Registration for non-students is $25 for the Friday WMA Conference and $15 for the $tart $mart Workshop. Student fees are reduced and will be refunded when they attend.
This is the first WMA Conference, but there are already movements to make it an annual
event. Mark your calendar for these interesting and educational programs supporting our local women students.
April 18, 2015
This workshop has been postponed until spring 2016.


WINGS (Women INterested in Going to School)
This program helps women gain the confidence to pursue higher education.
Stay tuned for more details!
March 28, 2015
Iron Jawed Angels
Free showing!
Sparta Cinema 6
Saturday, March 28
10:00 am
Donations requested to support Brighter Tomorrows
Co-sponsored by AAUW LaCrosse, Options Clinic, League of Women Voters La Crosse and
Brighter Tomorrows